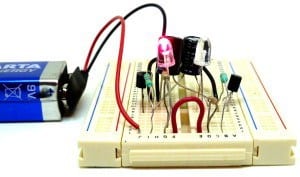 It's a little timer chip.
So you can use it to build different fun time-related circuits… Which does not sound very fun at first.
…but it is!
I've just built a cool little synthesizer that I have been addicted to for the last few days.
But you can also build things like a LED chaser, blinking lights, alarms +++
Lately, I've been playing around with it to create more fun circuits for the upgraded version of my eBook «Getting Started With Electronics».
I'll add them all there – and of course the component box will contain all the necessary components =)
You don't have to wait.
You can buy the current version, and get a free update to the new one automatically.
And then you can buy the component box when it is ready too.
Here's where to get the eBook:
https://www.build-electronic-circuits.com/products/ebook-2nd-edition/
Keep on Soldering!
Oyvind