A few years ago I received a message: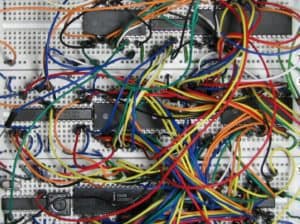 "We need to add a fancy new function to our product. Do you know how to do this?"
(Okay it didn't read "fancy new function", but you get the picture)
It was from a client that I've done a lot of electronics development for earlier.
When I got the message, I hadn't done any work like that.
So I could have just said, "no, sorry".
But the thing with electronics is that you'll never know everything.
So instead of saying no, I looked it up.
I sat down and researched the topic.
And I got an overview of what needed to be done.
Suddenly, I had a pretty good idea of how to do it.
I was hired for the job.
And I solved their problem.
I often get emails from people searching for a "secret key".
Like some piece of information that will enable them to design anything without ever having to look up something again.
Unfortunately, it doesn't exist.
But it doesn't mean you can't get to a place where you can build any idea that pops into your head.
You definitely can.
You just need to build up some basic skills like:
-understanding basic electronics
-reading circuit diagrams
-building circuits (on breadboards, on stripboards, then PCB)
Then practice by building lots of projects.
When you get good at this, and you know how to look up things, then you can build whatever you want.
So maybe the "secret" is to be okay with not knowing everything? And just look things up when you need to?
There are many places to learn the skills needed.
If you want to learn from me, I invite you to join Ohmify, our electronics community of makers and hobbyists.
It includes more than 300 lessons on different electronics topics, including project plans and step-by-step instructions.
And a discussion forum where you'll always get answers to your questions and help with your projects.
More info here:
https://ohmify.com/join/
Keep On Soldering!
Oyvind @ build-electronic-circuits.com