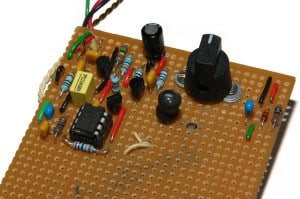 A friend once asked me: «What can you do with a circuit board?»
«Anything!», I answered.
But he still looked confused.
To me, it's so obvious what you can do with a circuit board. But I realized, that it's not obvious to everyone.
All electronic gadgets have circuit boards inside them. Like a computer, a mobile phone or a remote control. A circuit board is a board that holds all the different electronic components and connects them.
By building printed circuit boards, you will be able to create much more advanced circuits than you would ever be able to on a stripboard or a breadboard.
When my friend understood this, he also wanted to learn to build circuit boards.
To build a printed circuit board, you need to:
* Design schematics
* Design a board layout
* Export your design into Gerber-file
* Get your board made (Either by etching, CNC milling or using a manufacturer)
The steps aren't too complicated. Anyone can do them. But you need to know how.
That's why I created the video training «Building Advanced Hobby Circuits», where I show you exactly how to do each of these steps.
Because I am doing an upgrade of the course, the current version with the current price and bonuses will only be available until 31st of December. After this, you will not be able to get the course until the new version is launched.
Everyone who has the old version will receive access to the new version at no extra cost, once it is launched.
More info:
https://www.build-electronic-circuits.com/products/building-advanced-hobby-circuits/
Merry Christmas and Keep on Soldering!
Oyvind