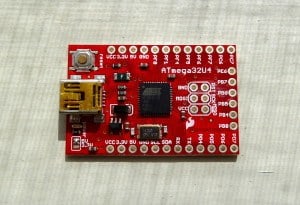 In the beginning there were pins that went high and low.
Super easy to work with and understand.
I am talking about the good old parallel and serial ports on a computer.
You might remember them.
You might not.
But I remember that I was super excited when I learned about them. Because it meant I could connect my electronics in the real world, to the virtual world of the computer. And discovering things like that has always made me happy.
My first project was a simple box with buttons that I connected to the serial port. And I programmed a simple program on my computer that could control a music player called Winamp.
These days, we usually connect things through USB. But you can get USB-to-parallel port or USB-to-Serial converters, if you miss them.
With USB, things get a bit more complicated.
At least to do simple things.
But it makes it simpler to do advanced things. That's the advantage.
To make a USB gadget, you need a microcontroller with a USB device interface. You need to program it with code that follows the USB protocol. And the machine that you connect your device to, must have a driver that supports your device. But there are a lot of standard drivers you can use.
If you're interested in this, it's possible to make a USB gadget by expanding on the microcontroller circuit I built back in January:
https://www.build-electronic-circuits.com/microcontroller-tutorial-part5/
I went through this process myself, when making the multi-touch interface for the Mangascreen: http://goo.gl/mDjhRw
Learning about the USB protocol was one of those topics that when I started, I thought "Oh man, I will never be able to learn this stuff".
But I didn't allow myself to quit. And after a few days, the USB protocol started to make sense.
And when I got the circuit working – wooooow that was fun!
I am upgrading my video course at the moment, and I am thinking a lot about how I can transfer these learning processes to you.
If what I am writing about feels too complex for you, don't worry. You'll get there. Here you can start from scratch:
https://www.build-electronic-circuits.com/products/ebook-2nd-edition/
Keep on Soldering!
Oyvind
PS! The Mangascreen project has been almost 200% funded already. So it will happen. The tiny little HDMI screen is a really cool addon to your projects. It's mostly my friend Elias' project, but I help out. See more info here:
http://www.kickstarter.com/projects/1924187374/manga-screen-multi-touch-43-lcd