This Christmas was very different.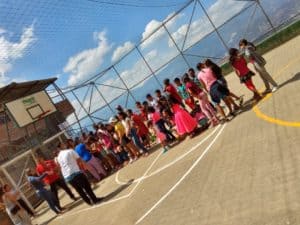 On Christmas eve, instead of watching movies and eating candy during the day, we went to a poor neighborhood in Medellin.
Some friends had collected toys.
And we helped give them out as Christmas presents to kids who might not otherwise get anything.
The kids were really happy.
And we got to see a part of the city that we would never have seen otherwise.
With an amazing view!
I made some videos of it – but first:
I just finished my first video from Colombia!
If you've been following my emails, you probably know that I've been staying in Colombia for the past month or so.
And that we are building a robot here.
Well, that's what this video is about.
It's part 1 of 2.
You'll learn about the robot.
And you'll get to see what life's like here in Colombia (and it is pretty nice!)
See the video below:
By the way – the Christmas bundle is still up for grabs.
But not for long.
Christmas is almost over, and so will the bundle be.
Check out the following link for more information:
https://ohmify.com/xmas-bundle/
Keep On Soldering!
Oyvind @ build-electronic-circuits.com