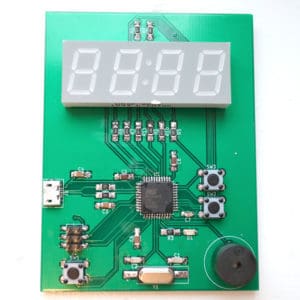 At the beginning of October, I went to Sweden to create something new.
I wanted to create a course where you would learn a really useful skill through building a specific project.
And today I added the finishing touch my newest course:
"Design a Kitchen Timer With Kicad"
You'll build a kitchen timer – or egg timer if you prefer.
And you'll learn to create your own printed circuit boards with Kicad.
It is probably my favorite skill in electronics.
I remember back in the days when I learned that it was easy AND that it didn't have to cost a lot of money – I was in electronics-heaven.
Why?
Because when you know how to design your own printed circuit boards – or PCBs – you can:
* Use as many components as you want
* Easily add modern technology to your gadgets (WiFi, Bluetooth, USB, ++)
* Have a large number of wires without losing control
These are things you just won't get when creating circuits on prototyping boards.
It will take your circuit building game to the next level.
Another cool thing about this course is that you'll build a microcontroller circuit from scratch.
So even if you have no use for a kitchen timer – you'll build a microcontroller circuit that you can customize to do whatever you want.
Are you already a member of Ohmify?
Then this course is free for you.
Just log in and you'll have access.
Not a member?
Then you can either sign up to become a member here:
https://ohmify.com/join/
Keep On Soldering!
Oyvind @ build-electronic-circuits.com