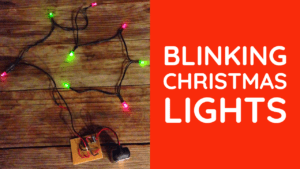 Christmas is coming up in about a month. And it's time to build some Christmas things with electronics.
So I just added a new course project to the Ohmify library: The Blinking Christmas Lights
https://ohmify.com/courses/blinking-christmas-lights/
In this project, you'll build a circuit that will flash a bunch of LEDs. Place them on the fireplace, in the window, or hang them on a tree for a nice Christmassy effect.
You'll learn how to go from blinking just one LED, to blinking lots of LEDs. Or even lightbulbs.
That might sound simple (and it is), but you'll learn some very useful stuff about using transistors and integrated circuits that I'm sure will come in handy in a lot of your future projects.
This is just one of many courses, projects, and tutorials you'll get access to as an Ohmify member.
But the thing our members appreciate the most (according to the latest reviews about Ohmify on Google) is the ability to ask questions on the community forum.
All questions are welcome. Simple. Advanced. About your own projects. About other projects.
Click the link below to sign up:
Keep On Soldering!
Oyvind @ build-electronic-circuits.com