Have you ever wondered what a capacitor does in a circuit?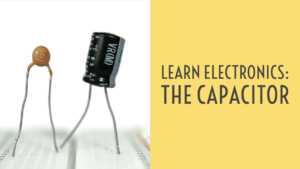 Well, then the newest Ohmify course is for you.
You'll learn how the capacitor works and some of the cool things you can build with it:
Fading LEDs, time-delayed burglar alarms, sound-generators, blinking lights, and more.
But more importantly, you'll learn how voltages and currents behave when you charge and discharge a capacitor.
When you know this, it becomes much easier to look at a random circuit diagram and "see" what the circuit does.
This course requires that you understand the difference between voltage and current and that you know how voltages and currents behave with resistors. (These topics are covered by other courses in the Ohmify library.)
Find the course here:
https://ohmify.com/courses/learn-electronics-the-capacitor/
Not a member yet?
An Ohmify subscription gives you access to more than 20 courses – plus a forum where you can get help with the courses or your own projects.
Join here:
https://ohmify.com/join/
Buying for someone else? Purchase a gift card here:
https://ohmify.com/gift-card/
Keep On Soldering!
Oyvind @ build-electronic-circuits.com