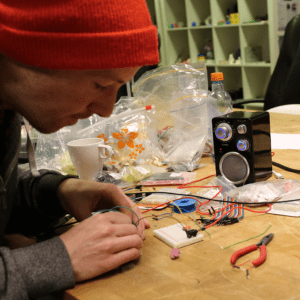 I like to create sound.
It's one of my favorite things to do with electronics.
To create sound you need to make a circuit that makes a voltage go up and down very fast.
Like a few hundred (or even thousand) times per second.
In fine electronics term – an oscillator.
Connect this oscillating voltage to a speaker, and voila! You have sound.
To create oscillators, I've often used the 555 timer.
It's relatively easy to build a circuit with it.
You can learn more about the 555 timer here.
But understanding how it works isn't straightforward for a beginner.
On Monday, Captain Credible and I had our second playdate.
We used a Schmitt-Triggered Inverter to create the base tone.
It's a fancy-schmancy name, but it's actually quite easy to understand the concept of it.
The base circuit we built was circuit number three from this article (only with smaller resistor and capacitor values):
https://www.build-electronic-circuits.com/blinking-led-circuit/
Then we added some fun circuitry to manipulate the sound and create some really cool effects.
I'll upload a video of it soon.
But, after two playdates with Captain Credible, I am now convinced:
The Schmitt-Triggered Inverter is now my goto-chip for creating sound.
Keep On Soldering!
Oyvind @ build-electronic-circuits.com