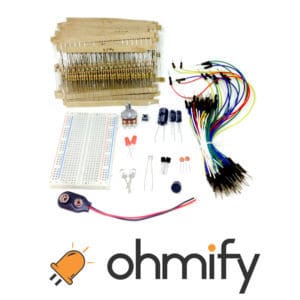 Ho ho ho!
My workday is coming to an end here in Australia.
And tomorrow is Christmas Eve.
Now I just need to get those last Christmas presents taken care of.
If you're like me, waiting until the last minute, how about giving the gift of knowledge this year?
Electronics is not only a fun hobby, it's knowledge that is useful in the workplace, at schools, and for budding entrepreneurs.

Do you have a family member you think would enjoy learning electronics?
Ohmify is an online membership club that I've developed to teach you how to build your own things with electronics. It's designed especially to help beginners get up to speed quickly.
I've just created the option of buying an electronic gift card for either 3, 6, or 12 months on Ohmify. The perfect last-minute gift =)
The receiver of this gift card will get access to all courses and resources on Ohmify.
It also includes a component kit (worth $35) shipped anywhere in the world for free, with all the components needed for the first phase of Ohmify.
Get it here:
Ohmify Includes:
50+ Courses (and growing): A ton of courses on electronics so that you can build your own ideas, not just blindly follow instructions
Discussion Forum: Get expert help in the forum with Oyvind and other electronics enthusiasts, so you never get stuck.
Build Instructions: Step-by-step instructions for cool projects like a robot, music player, mobile phone charger and the Atari Punk Console