Today is the day before "the day" here in Norway.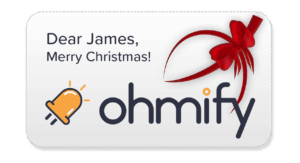 "The day" is Christmas Eve.
That's the main day of Christmas here in Norway. That's when Santa comes knocking on the door and the kids get their Christmas presents.
Do you have someone in your life that is or could be interested in electronics?
Then, how about giving the gift of learning this year?
Last year's gift cards for Ohmify were pretty popular, so I thought I'd offer it this year as well.
I've set it up so that it's possible to buy a year of access to the courses and support forum. It also includes a component kit sent to the recipient's doorstep.
For someone who's interested and puts in the effort – a year can take you from knowing nothing to building pretty advanced circuits.
Maybe they'll thank you with a homemade present next year ;)
Also – if they use the gift card before the end of the year – they'll get six downloadable eBooks as a Christmas bonus.
(BTW – The Christmas bonus is of course also available for normal subscriptions.)
You can purchase gift cards here:
https://ohmify.com/gift-card/
How it works:
After you've made the purchase, you'll receive the gift card by email as a PDF. You can then decide if you want to print it out or send it by email to your loved one.
The instructions on how to redeem the gift card are on the card itself.
Keep On Soldering!
Oyvind @ build-electronic-circuits.com