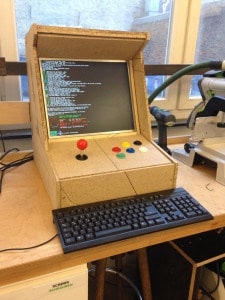 I'm sitting across from this beautiful girl, on a balcony in Berlin.
And she just asked me a question.
Well, to be honest, I forced it out of her.
But she explains:
"I've been to the Siemens factory [Oyvind: "they produce electronics"]
…and I saw these green electronic boards.
So my question is, how does it work? From being electrical signals to become something I see on my screen?"
OYVIND: "Hmmm. Good question. Hard questions though. But let me try to explain."
Let's start with the computer screen. It has a lot of tiny dots that can be controlled to have any color.
On the board, there are electrical signals that can for example control these dots.
The signals can arrange the dots in any imaginable way.
For example to show an image.
Or text.
But who controls these signals?
That's the programs in the computer.
For example, the signals needed for showing an image of a duck, could be stored on the hard drive.
Then you could make a program that sent these signals to the screen, so that each dot would get the color necessary to create a duck.
That's the easy explanation without going into depth.
A good place to understand this better is by learning about microcontrollers.
And Arduino is a great platform to start with.
I wrote a guide to Arduino on how to get started with Arduino quickly.
With a steep learning curve. And it's available as a bonus if you get one of the packages for my eBook "Getting Started With Electronics":
https://www.build-electronic-circuits.com/products/ebook-2nd-edition
Keep on Soldering!
Oyvind
PS! Have a great weekend!