I'm seeing signs of spring today.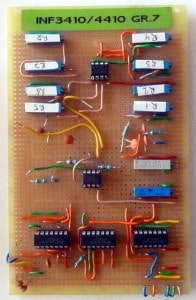 After traveling from place to place for the last few months, I'm now back in Norway.
The sun is out and the birds are singing.
A bit cold, but beautiful.
And I'm looking forward to settling down here for a bit and reestablish my day-to-day habits.
So I'm reading a book about habits.
In it, I read a story about some photography students.
They did a study on them.
The students were split in half.
One group were told that at the end of the semester they would get their final grade based on the quality of one photograph.
The second group was told that they would get their final grade based on how many photographs they could produce. 100 photographs being the top grade.
Who do you think made the best photos?
At the end of the semester, those who took a lot of photos ended up taking much better photos than those who tried to take only that one perfect photo.
I am convinced this works for electronics too.
If you want to learn electronics – build a lot of projects.
Don't spend a year trying to make one perfect electronics project.
Instead, make many projects that are not perfect.
If you need support in learning electronics or building projects – why don't you join us over at Ohmify?
Learn more here: https://ohmify.com/join/
Keep On Soldering!
Oyvind @ build-electronic-circuits.com