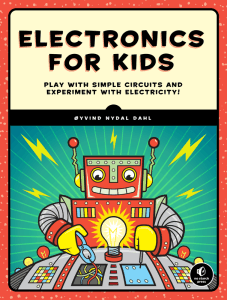 Are you a brainiac?
A year ago, I launched Electronics For Kids together with No Starch Press.
Now you can get this book, and a lot of other "brainy" books, for whatever you want to pay!
And – you'll support charity while you're at it =)

From No Starch:
Start brainstorming with The LEGO Animation Book, Electronics for Kids, Invent Your Own Computer Games with Python, The Art of LEGO Scale Modeling, Arduino Project Handbook, and more!
Pay what you want. All together, these books would cost over $291. Here at Humble Bundle, you choose the price and increase your contribution to upgrade your bundle! This bundle has a minimum $1 purchase.
Read them anywhere. These books are available in PDF and ePUB formats, and some in MOBI too, meaning you can read them anywhere at any time. Instructions and a list of recommended reading programs can be found here.
Support charity. Choose where the money goes – between the publisher and Teach for America via the PayPal Giving Fund. If you like what we do, you can leave us a Humble Tip too!
You can find the bundle here:
https://www.humblebundle.com/books/brainiac-2-book-bundle