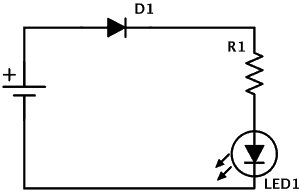 QUESTION: "Why doesn't it matter which leg of a led you put a resistor on? Surely if it's on the anode then that's fine, but if it's on the cathode then the current will flow through the anode first and burn out the led? I'm sorry if that's a silly question but I'm still learning."
OYVIND: It's not stupid at all.
If too much current is going through the LED, it will burn out like you say.
But in a series circuit – it is only one way for the current to go – so the current will be the same anywhere in the circuit. You can think of the current as the amount of water flowing in a pipe.
When you insert a resistor to your circuit, this is similar to making the water pipe more narrow at some point. It doesn't matter where on the pipe you do this. The amount of water that flows through the whole pipe will be reduced.
Same with a resistor. It doesn't matter, which side the resistor is on, because the current will be reduced in the whole path.
It's one basic concept you need to learn to really understand this – and that is how current flows in a circuit.
The best way to learn it, is to start with the information on how this works. Which I explained above.
…then try it out in practice.
In my eBook «Getting Started With Electronics», you will learn to build circuits so that you can see this in practice also. Check it out here:
https://www.build-electronic-circuits.com/products/getting-started-with-electronics

Keep on Soldering!
Oyvind