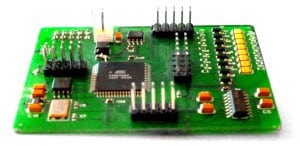 This circuit is so much fun.
It's a mini-synthesizer that I built for the upgraded version of «Getting Started With Electronics».
In the following clip you can see me playing with it in the lab. Maybe I should drop everything and start my own synth band?

https://youtu.be/bA0lEBpTYYo
Anyway – today I am traveling to Bucharest in Romania.
I am really excited to see the "Paris of Eastern Europe"!
When I get back, I hope the layout of the upgraded book is ready, so that I can get it out to you. There, I will show you exactly how to build the synth that I am playing in the above clip.
Te văd!
Oyvind
PS! The current eBook version gives you a free upgrade to the new version automatically. More info here:
https://www.build-electronic-circuits.com/products/ebook-2nd-edition/