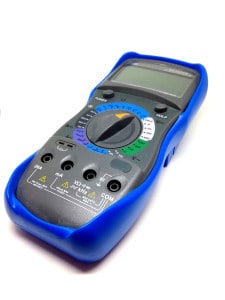 Here's a tip I just learned.
(Thanks to both Geoff and Saxet who pointed this out to me)
If you have an LED that you don't know the voltage for – you can use a multimeter to find it.
Choose the little diode symbol on your multimeter. Connect the test leads to your LED. The short leg of the LED must connect to the COM-terminal on the multimeter, and the long leg to the other terminal.
If you've connected it correctly, and your LED is not damaged, you should now see the LED light up.
And if you look in the display of the multimeter – the voltage of your LED is shown.
Super simple!
Not all multimeters have this, but a lot of them do.
Keep on Soldering!
Oyvind
PS! In my eBook «Getting Started With Electronics» you'll learn how to use a multimeter to measure voltage, current and resistance. You'll also learn how to get started building electronics. Find out more here:
https://www.build-electronic-circuits.com/products/ebook-2nd-edition/