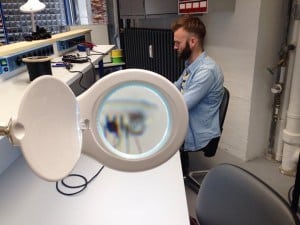 I'm back in the Europe.
And I'm homeless (by choice) these days.
So I live with friends and family.
Last week, I slept on the couch of my good friend Kimmern, in Oslo.

Next day, I wanted to work on my robot. So I brought out all my equipment and started building.
My friend (who is a nurse) thought it was really weird to have what I'm doing as a job. So he filmed me while I was doing my thing, and posted it on snapchat to his friends.
The text on the video reads: "someone actually has this as a job :)"
Check it out here:
And I LOVE to be able to build things with electronics as a job!
Do you think it looks fun?
You can learn to build things with electronics too — here's how:
https://www.build-electronic-circuits.com/products/ebook-2nd-edition
Keep on Soldering!
Oyvind