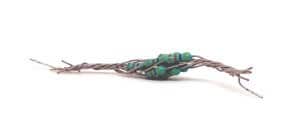 I was going to pick up a few electronics books from my apartment in Oslo, before handing the keys over to someone else, go to my brother, and then Berlin.
Quick and easy.
At least I thought so…
My brother had printed the contract, and was going to bring it to me.
Then things started to happen.
The girl had to come earlier to get the keys to the apartment, because of work.
So, I couldn't wait for my brother to bring the contract. I needed to find an internet cafe to print it.
But, then the water stopped in the kitchen for some reason. And I had to wait for the janitor to come and fix it. So I couldn't go to print the contract.
Ahhh!
Now I am sitting in my apartment, feeling really stressed and waiting for the janitor. Hoping he will come soon, so that I can get the contract printed, hand over the keys, and go to Berlin.
And the feeling is a lot like the feeling I often get before showing someone a project that I have built. Just a few hours before I am going to show it off, something stops working. And I don't understand why. Then I stress and try every option I can think of to make it work again.
Usually I can make it work in time for showing it off. But sometimes not. I hope today, things will work out.
31st of December is the last day you can buy the video training «Building Advanced Hobby Circuits». Then it will be unavailable until the new version is released.
If you buy the current version, you will get the upgraded version for free when it is ready. More info here:
https://www.build-electronic-circuits.com/products/building-advanced-hobby-circuits/

Keep on Soldering!
Oyvind