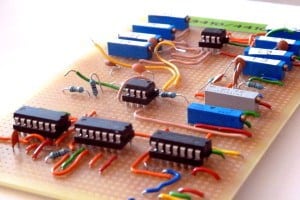 I've been there.
This happened to me when I was starting out:
I wanted to build a music amplifier.
I knew how to solder and read schematics.
I found a circuit diagram that looked interesting and started to think about the project.
But then I noticed that the circuit needed three inputs: -12V, +12V, and ground. Realizing that I did not have such a power supply, nor any idea on how to build one, I decided to continue on the project "another day".
Well, that project never continued.
Ever had that happened to you?
The solution to this problem is a mindset shift.
Whenever you are going to create a new project – there will be things that you don't know how to do.
This is the life of us who build things.
There is usually never a new project where you can just build the whole thing without having to do any research.
Sometimes I need to read up on a new component.
Sometimes I need to ask someone for advice.
Sometimes I need to buy something I don't have.
But that's the fun of it!
If you're stuck on a project – do you have someone to ask for advice? A father, a daughter, a neighbor, a coworker?
Go ahead and ask them.
Then get back on track with your project.
At Ohmify, I just upgraded the community discussion section to make it much easier to ask for advice, give advice, or just discuss interesting topics.
Ohmify is an online school where I teach electronics:
Keep On Soldering!
Oyvind @ build-electronic-circuits.com