… without getting a divorce, leaving all your friends or getting laid off work
With access to these strategies you could finish projects in days instead of months!
It sounds crazy right? I know, I've been there. I can remember several times when I had a project I was really passionate about, but somehow I never found the time to continue on it. And before I knew it months turned into a year and I decided to give up on it. I hated that feeling.
So let me ask you this:
Do you have a project you have been wanting to work on for a long time?
Do you always find yourself too busy to work on it?
Do you wish there was a way to spend more time on your project without cutting down on other activities that you appreciate doing?
This is completely normal. I get hundreds of emails every month, many from someone who wants to work on a project, but can't because he is too busy.
I used to spend months working on a simple project before giving up because I never had the time.
But what I have found through my own experience and through communicating with people like you is that it's not about not having enough time.
The Solution Is To Work Smart
We humans are habitual people. So if you haven't worked on your project for a while, then that's your habit and working on your project will feel like a much bigger hassle than it is.
But there are actually a lot of tricks we can do to remove the feeling of it being a hassle. Even if you only have 15 minutes per day to spare, you can still make big progress by using the techniques for working smart.
The tricks you are about to learn are not difficult or complicated. You can learn and apply them TODAY!
Introducing the eBook on How To Finish Electronics Projects With Supersonic Speed!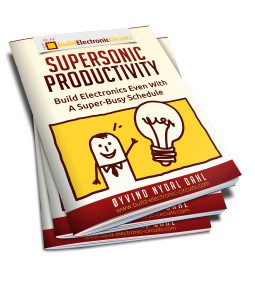 Make time to start on your project TODAY
Eliminate interruptions that keep you from progressing
Increase your focus so that you can effortlessly work with high creativity and productivity
Make use of even the smallest time window to make progress on your project
Set intelligent goals so that you will finish in just a fraction of the time it would take otherwise
Get un-stuck immediately so that you won't be paralyzed whenever a problem appears
All this included in a simple and easy-to-read ebook that can be read and implemented today.
This ebook is valued at $29.90. I really want people to learn this stuff, because with more people knowing this more cool projects will be realized. And I love new, cool projects!
So if you buy today, you'll get it for ONLY $9.90. Just scroll down and click the "Add To Cart" button below.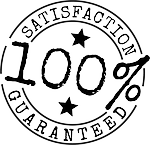 You Take Absolutely NO Risk. You're Completely Covered by Our 60-Day Money-Back Guarantee!
I am confident that you will gain great value from this ebook so I am willing to take all the risk. Try the techniques in the ebook for 60 days and if you don't think it gave you the value promised, I will give you a full refund. No questions asked.


Click the button below now and get INSTANT access to the ebook
Regular Price $29.90 Today $9.90

You are protected by our 60-day guarantee
PS! If you don't act and start implementing these techniques today you are losing precious time that you could be spending on your project