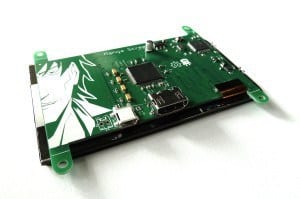 My friend and I built a mini-display.
We bought a replacement screen for an HTC smart phone, added some electronics and a multi-touch panel, and made it HDMI compatible – so you can easily plug it into your computer, Raspberry Pi, Beaglebone Black and such.
This means you can build gadgets with really nice graphics, like a handheld gaming device, or your very own smart phone!
I have to admit that my friend Elias put in a lot more hours than I on this project. He is the main guy behind this. But I programmed the firmware to turn a capacitive film into a USB multi-touch device.
And that was incredibly fun!
It's available as a kickstarter project now. The video there gives you a better idea of what it actually is:
https://www.kickstarter.com/projects/1924187374/manga-screen-multi-touch-43-lcd
Keep on Soldering!
Oyvind