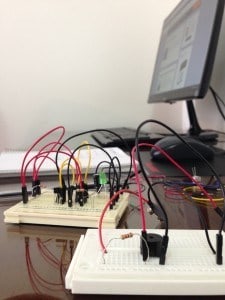 One of my favorite TV-shows of all time was "Prototype This!"
Joe Grand (aka kingpin) was the host.
Guess what?
Now he's reading my new book Electronics For Kids!
He calls it "a most excellent book" – and he has agreed to write the foreword for it!

To see what he wrote, click here:
https://twitter.com/joegrand/status/708423724530143232
It's an honor to have such a cool guy as a part of the Electronics For Kids team.
The book can be pre-ordered here (with early access to the pdf-version):
https://www.nostarch.com/electronicsforkids
(use the code E4KBUILDER for a 35% discount)
Unfortunately, international shipping rates outside of the US are crazy high from the nostarch website…
Luckily, it's also available (but without discount and early access) here:
Amazon: http://amzn.to/1pldtUj
Barnes and Noble: http://bit.ly/1QT1NCm
Keep On Soldering!
Oyvind