Yesterday I climbed the hill of three crosses.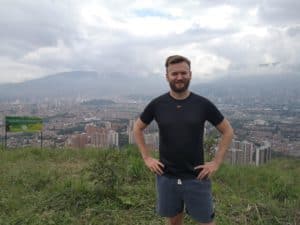 It's a popular hill in Medellin for doing a Sunday hike.
Green and beautiful.
When you get to the top, it's a great view of the city.
Suddenly I'm seeing new things:
"Oh, there's a golf course over there."
"And a nature track over here, just by our house."
I started thinking about how an overview gives you a better understanding of things.
And that by starting with an overview, things become easier.
Often I see beginners trying to understand complicated details before they have the overview.
That often leads to frustration.
It's like trying to understand what the computer mouse does, before knowing what a computer is.
On the other hand, if you know what a computer is – it's pretty easy to understand what the mouse does.
Starting with an overview is always useful.
In electronics, the first overview can be to learn:
What is voltage and current?
The basic components in electronics and what they do
How circuit diagrams work and how you can build them using a breadboard
Do you agree that tackling these three items is possible for anyone who has an interest in it?
That's what you'll learn in the first lessons of my Basic Electronics courses at Ohmify.
And then we build from that base.
To help you get to a place where you can build your own ideas with electronics.
If you want to learn more about Ohmify, check out the following link:
(BTW – I'm doing some upgrades to the page these days. So if something looks strange, that's probably why. But it will be fixed.)
Keep On Soldering!
Oyvind @ build-electronic-circuits.com