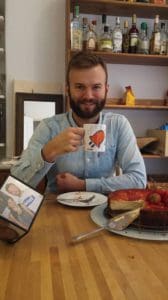 Once upon a time, there was a curious kid who really wanted to understand how to blink a light.
So he did the obvious and went to read books on electronics in the library.
But little did he know that the authors of those books had no intention of making it easy for beginners. After all, they had worked hard to get to where they were, so why should they make it any easier for other people?
By using words like «n-doped materials» and «two-terminal passive device», the books quickly discouraged the poor kid.
«I am not smart enough to understand this,» he thought to himself.
Luckily, the kid had a father who knew better.
His father didn't know the words from the book either – but he was a practical man who knew how to build things.
And he didn't need fancy words to do it.
With a drawing on a sheet of paper – and using simple words – he showed the kid how to blink a light.
«Wow», the kid thought, «why wasn't this in the books??»
The kid was hooked and a seed was planted.
Little did he know that years later he would become an author himself and write those books that he wished he had as a kid:
https://www.build-electronic-circuits.com/electronics-for-kids/
It's funny to think back at those moments early in life that planted the seeds for the life I'm living now.
I never wanted to be an author.
And I never wanted to become a teacher.
I wanted to build cool things.
And I've always wanted to share those epiphanies that helped me get there – just in case they would help other people too.
So it kind of just happened that I started writing books, articles, videos, and courses to share them.
If you want to learn to build things with electronics in a simple way, I invite you to join Ohmify:
Keep On Soldering!
Oyvind @ build-electronic-circuits.com