Ok, I've been away from electronics for too long.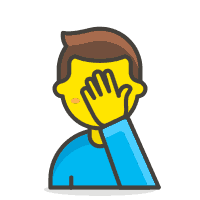 I haven't been able to get my hands dirty and build circuits for a while.
But last week I sat down to build some circuits for a 555 Timer course over at Ohmify.
I hooked up the most simple circuit (a blinking LED), but it wouldn't blink!
I checked my connections, measured all the components, replaced the battery, replaced the breadboard – basically everything I could come up with. But still nothing.
The chip must be broken, I thought. So the next day I went to a local electronics supplier and bought three new 555 chips.
Replaced the chip… Still nothing.
I could not make the thing blink!
Finally, I put my ego aside and typed into google "555 circuit not working". I read through a few forum posts until I saw this message by a man with the same problem:
"Well I'm a total fool. I read the pinout wrong. Working fine now."
So I looked down on my circuit. Turns out I've done the same thing! I read the pinout wrong!
(Facepalm)
Well, all good now. I built a lot of fun circuits with the 555 timer. And finished up the course. If you're already a member, you'll find it in the Trainings Library when you log in.
Not a member? Join here:
https://ohmify.com/join/
Keep On Soldering!
Oyvind @ build-electronic-circuits.com