Back in the days, when I was just a teenager, I remember reading about the "water analogy".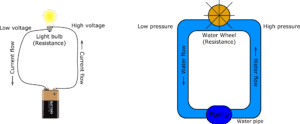 Comparing electronics to water.
I didn't like it.
Because I didn't get it.
I found a lot of things that just didn't make sense to me when thinking about circuits as water.
In an email last week I tried to answer better explain voltage and current.
I got creative and tried to compare a circuit to a fountain.
Find the email here:
https://www.build-electronic-circuits.com/what-goes-in-must-come-out/
It was meant to help you cope with this fact:
"the current going out from a battery is the same as the current going into it"
If it helped – great!
(If not, just ignore it).
But don't do the same mistake as I did.
Circuits are not like fountains.
I got a few emails from people pointing out that some of the water in a fountain becomes vapor.
And yes, that's correct.
And I'm sure you can find many more things that won't make sense when you compare a fountain and a circuit.
So please don't try to make sense of circuits in general by thinking of a fountain.
There are many things that won't make sense.
The point was just that the energy isn't the water itself, but the water carries the energy.
And in a vapor-less world, the water won't be "used up" in a fountain.
Just like current isn't "used up" in a circuit.
If you're committed to learn, I'd to invite you to join Ohmify.
Learn electronics from scratch, and build lots of cool projects like robots, a kitchen timer, or an amplifier:
Keep On Soldering!
Oyvind @ build-electronic-circuits.com