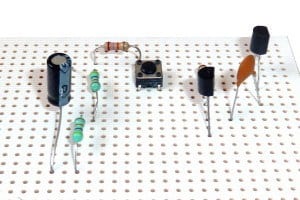 Last week, I launched a component kit:
It includes all the components needed to build all the circuits in my eBook "Getting Started With Electronics".
This gave me some surprises when it came to shipping.
I learned that sending things all around the world isn't straight forward.

I ship from the US.
Well, I don't do it myself — but the storage is there.
So if you live in the US, then shipping is ok.
Shipping to other places around the world on the other hand, is a bit more complex. Some places it will cost more than $50 for shipping, while other places it's just a third.
I'm taking it one step at the time.
At least now I have a kit available.
And with time, I will find ways to get it distributed around the world without a too high shipping cost.
So today, I got the idea of creating a shopping list.
This way, if you live somewhere remote, where shipping is really high, you can take the shopping list to your local store and buy the necessary components there.
Here it is:
https://www.build-electronic-circuits.com/wp-content/uploads/2015/05/ShoppingList-GSWE-ebook.pdf
Keep on Soldering!
Oyvind
PS! The second edition of my eBook "Getting Started With Electronics" is out. Build your first circuits — including blinking lights, sirens, touch sensor, music-playing devices and more:
https://www.build-electronic-circuits.com/products/ebook-2nd-edition