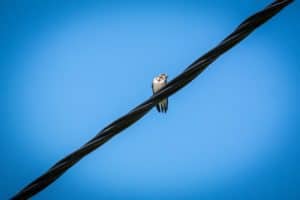 How can a bird sit on a power line with thousands of volts and not get electrocuted?
When I was a kid, I learned that it's because "the current takes the path of least resistance".
The reasoning behind was that the bird has a lot more resistance than the wires. So the current flows through the wire instead of the bird.
That stuck with me for a while.
Until I tried to apply that rule to electronics:
"Ok, I have two resistors in parallel… One is smaller than the other. Does that mean all the current goes through the smallest one?? That can't be right?!"
The rule just didn't work!
Here's the truth:
The current does NOT take the path of least resistance.
Yep, I said it. It's not true.
It's a simplification that works in some limited cases.
If you want a rule that works in all cases, here it is:
The current takes ALL paths that exist from a higher to a lower voltage potential.
What does that mean?
Imagine you look at two points in a circuit. For example the plus and the minus of the battery. One has a higher voltage potential than the other.
If there is a path for the current to take between those points, then current flows.
If there are more than one path – ex two resistors in parallel – current flows through ALL the paths.
So why doesn't the current flow through the bird?
There isn't any voltage difference. The voltage at one bird-leg is (for all practical purposes) the same as the voltage at the other bird-leg.
Now that the summer is over – are you ready to get started learning and building electronics?
If yes – join us over at Ohmify to learn, build, and discuss electronics with a friendly group of hobbyists, teachers, entrepreneurs, and professionals.
Find out more here: 
Keep On Soldering!
Oyvind @ build-electronic-circuits.com