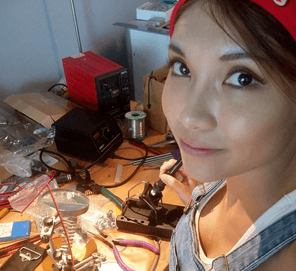 She calls herself SexyCyborg.
…and she's an electronics geek out of the ordinary.
I'm guessing you wouldn't suspect her to be into building electronics if you saw her at a pool party.
But she is.
Recently she posted some pictures of a LED Skirt she made.

And that caught my attention.
Not because I'm a guy, and that's a tiny skirt — but because I love to see people being different from the norm.
Especially in the hobby electronics world.
So, I knew I had to interview her.
Check it out here:
https://www.build-electronic-circuits.com/sexycyborg-interview/
Keep on Soldering!
Oyvind
PS! One of her tips for beginners, is that you don't have to understand everything
to build great stuff. In my eBook "Getting Started With Electronics" you learn to
build cool stuff, like your own musical instrument, but I also show you exactly how the foundational stuff works. Find it here:
https://www.build-electronic-circuits.com/products/ebook-2nd-edition