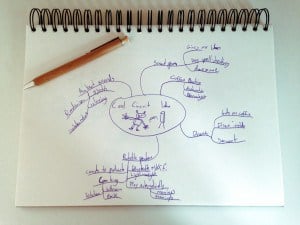 After a lot of trial and error…
After having lots of workshops and helping beginners build lots of circuits…
After making lots of videos, and remaking the videos…
…tomorrow my new online course will be open for enrollment.
It started out as an upgrade of my old course, but ended up as a whole new course.
I've learned so much about teaching people to build electronics lately, so there were so much new material I wanted to add.
Now it has turned into an 8-week course.
Just to give you an idea of how much the course has grown content-wise: about 90% the content from the old course is now put into one week. And the seven other weeks have completely new content.
And it has been renamed to Build Your Own Electronic Gadgets.
(Those of you who bought the old course will still receive the upgrade as promised. You will receive instructions within a few days through the email address you purchased with.)
Some of you have been asking about the weather light my students built here in Berlin.
…and yes, full instructions on the weather light and much more will be included in the course.
Keep an eye out for an email from me tomorrow with the subject "Build Your Own Electronic Gadgets now open for enrollment"
Keep on Soldering!
Oyvind