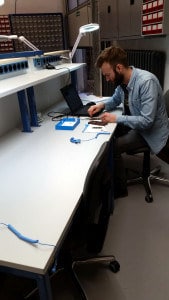 This is 5 cool/fun/interesting projects from the past week.
This smart home-made from LEGO and Raspberry Pi:
http://vimeo.com/115998548
This World's Most Useless Machine is an old one. But I love it:
http://www.youtube.com/watch?v=UmQ5LsNMXZ4

A Raspberry Pi built into an old Nintendo 8-bit case
http://bit.ly/1BNPMDb
A little robot bug that moves when you get a notification on Facebook or other social media:
http://www.instructables.com/id/Social-Bug-bluetooth-dancing-robot
This two player Pong game using Arduino:
http://www.instructables.com/id/Arduino-2-player-game/
But, you can also start building cool things.
In my eBook «Getting Started With Electronics» you will learn the basics of electronics and start building some blinking lights, alarms and amplifiers. Check it out:
https://www.build-electronic-circuits.com/products/ebook-2nd-edition/
Keep on Soldering!
Oyvind