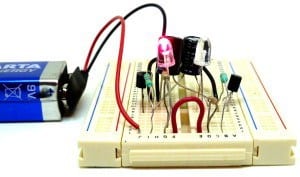 Here are some cool projects I come across while browsing the web lately.
* Automatic dog feeder, connected to the internet:
http://www.instructables.com/id/Automated-Littlebits-Dog-Feeder/?ALLSTEPS
* LED beer pong table:

* Pancake printer:

* Magic Mirror:
http://michaelteeuw.nl/post/80391333672/magic-mirror-part-i-the-idea-the-mirror
* Robot:
http://projectlog.ferranfabregas.info/how-to-build-a-subjective-camera-robot-car-with-raspberry-pi-arduino/
You can also build projects like these. Start by building some simple circuits, the progress from there.
Here you can get started:
https://www.build-electronic-circuits.com/products/ebook-2nd-edition/
Keep on Soldering!
Oyvind