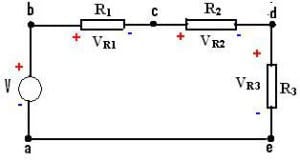 I know this sounds boring but….
I had to write about it.
Because it's important.
I am of course talking about «Kirchoff's voltage law» ;)
After you have learned it, it's not really something you use – it's something you know. And it makes looking at and understanding circuit diagrams much easier.
The law says that if you sum all the voltage drops in a circuit – it equals the voltage of your voltage source in the circuit.
EXAMPLE:
You have a 9 volt battery connected to two resistors and a diode in series. If you measure the voltages over each of the components – the sum of them will be 9 volts.
There is no need to memorize the name of this law.
Just remember that this is how it is.
Feel free to try it out.
If you need a kick in the butt to get started building circuits – not just read about them – then I highly recommend you check out my eBook «Getting Started With Electronics»:
https://www.build-electronic-circuits.com/products/ebook-2nd-edition/
Keep on Soldering!
Oyvind