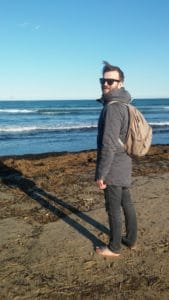 I'm on the train now, watching the Norwegian nature getting ready for winter.
While I'm getting ready for summer!
This week I've been busy packing and teaching.
Packing because my wife and I are hitting the road for a few months.
We're heading for Colombia, with a short stop in New York.
Then probably Miami and Mexico.
The plan is to do some workshops, build some things and create some new tutorials, articles, and courses.
I want to record some videos from the trip and post regularly.
The teaching part this week was a course on how to build a 90 LEDs display at Bitraf in Oslo.
The course went great (I think).
Elias, the guy I was doing the course with, posted a cool image of the thing we made here:
https://www.instagram.com/p/BpSnjL-A4kK/
I hope to create an online version of that for Ohmify soon too.
But I highly recommend you go through my newest course on how to build a kitchen timer in Kicad 5 first. Available under "Courses" for all Ohmify members now.
Not a member? Learn about what Ohmify is and how it can help you learn electronics here:
Keep On Soldering!
Oyvind @ build-electronic-circuits.com