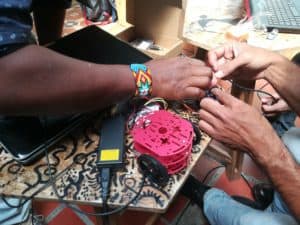 This weekend I went to a Colombian wedding.
And Jefferson went to Barranquilla.
So we decided to cancel this week's Club de Arduino meeting.
Club de Arduino is a club we started in Medellin, Colombia for beginners or advanced people who want to meet up and build projects together.
I thought I'd share the latest development of the robot.
We can now control the robot with a cell phone:
Next, we need to add in some intelligence and make it do stuff on its own.
Christmas is coming up, so it's gonna be really hard to get the full group to gather in the following weekends.
But we'll try!
I've recorded a lot of video from Colombia.
And I'm in the process of making a vlog-episode very soon, sharing some of the things I've experienced so far on this trip.
Do you think it looks fun to build a robot?
It is.
And you can do it too, even if you're starting from scratch.
Sign up for Ohmify, and you'll get step-by-step instructions on how to build a simple robot…
…along with lots of other courses to learn electronics from scratch.
I have a special offer on now – a Christmas bundle – packed full of content to help you learn electronics fast.
Check out the details here:
https://ohmify.com/xmas-bundle/
Keep On Soldering!
Oyvind @ build-electronic-circuits.com