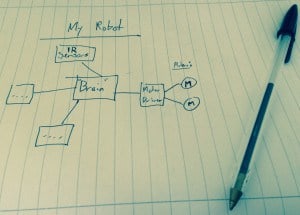 "Wow, you built that??"
"How is that possible? You must be so smart!"
That was the reaction of my friend when I showed him my robot that I just built.
He was so impressed!

Haha, as much as I love soaking up some compliments now and then, I have to admit that the robot I built wasn't that complicated.
It contained only a few different components.
…and when you know how those components work, it's pretty straight forward:
Both to understand how the robot works and to build it.
And the best thing is that you will start to realize that many other things can be built in a similar way.
Just by modifying the circuit a little bit.
Here's a short video clip from one of the first test runs:
https://youtu.be/kJ5fWYcooIk

Keep on Soldering!
Oyvind