As I was drinking my morning coffee this morning.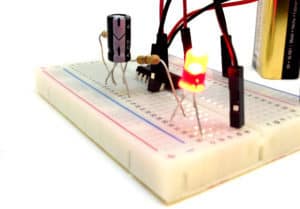 Watching the little, yellow bird outside our window.
I came across this paragraph:
what you hear, you forget
what you see, you remember
what you do, you understand
I want you to understand electronics.
Not just memorize some facts.
But what does it take?
Doing.
You can read about how to make a light blink.
Later you forget.
You can see a video of it.
Then maybe you remember.
Or you can sit down and build a blinking light circuit.
And you'll understand.
You won't necessarily understand everything about it.
But there will be some "aha"-moments that will give you an understanding you will never get by just reading.
Today's word of wisdom:
Build circuits.
Not sure where to start?
That's what I made Ohmify for:
To help you build your own inventions with electronics – even if you have no experience from before.
I've put together a learner's package for Christmas.
If you join within the next 3 days, you'll get two ebooks for free + a starter's component kit shipped to your doorstep.
Learn more here:
https://ohmify.com/xmas-bundle/
Keep On Soldering!
Oyvind @ build-electronic-circuits.com