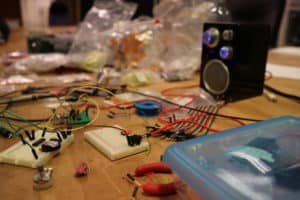 I met up with Captain Credible to play with circuits and try to come up with some fun sounds.
This is the result. It's not all pretty – but extremely fun!
We built everything using the 40106 and the 4000 series of integrated circuits (IC).
To create sound in the first place, you need to create an oscillating voltage.
That means a voltage to goes up and down continuously.
Since 20 Hz is the lowest frequency humans can hear, the voltage needs to go up and down at least 20 times per second.
But usually, only younger people will hear frequencies that low.
Crank it up to a 100 Hz, and most of us should be able to hear it.
You can create an oscillator with the 40106, then use the other chips from the 4000 series to manipulate the sound in many different ways.
We had two really fun meetings.
And we are going to plan our next step soon.
Hopefully, we'll get some tutorials out.
Maybe even a course.
Have a great weekend and…
Keep On Soldering!
Oyvind @ build-electronic-circuits.com