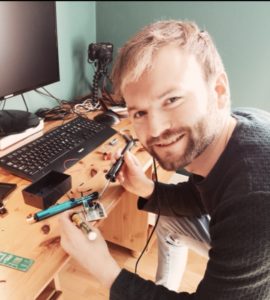 I hope you are well during these lockdown times.
While writing this, I'm sitting on our balcony and enjoying the sun. I have a beautiful view of green trees with newly sprung white flowers. The pleasant scent of the flowers, and the calming sound of bumblebees, make this quite the scenario.
So I really can't complain.
My wife and I have been in Oslo, Norway during the lockdown. And I feel pretty lucky as we haven't been hit as hard here as in many other places around the world.
And things are slowly starting to open again.
The positive side of the lockdown is that I've been forced to sit down and work.
No more travels for a while.
So I've been able to create a lot of new material for Ohmify.
My goal for this year was to add at least one new course every two months. So a minimum of 6 throughout the year.
But guess what…
I just counted that I've added 9 so far this year! And the 10th is on the way.
The new courses are:
Learn Electronics: The Resistor
Learn Electronics: The Integrated Circuit
Learn Electronics: The Inductor (To be released soon)
Build A Remote-Controlled LED [MINI PROJECT]
Arduino: How To Use a 7-Segment Display in Projects
Arduino: Build a Sound-Activated Switch [MINI-PROJECT]
Arduino: Build a Light-Based Theremin [MINI PROJECT]
The Sunrise Wake-Up Alarm [MINI-PROJECT]
How The Astable Multivibrator Works
The Night-Light [MINI PROJECT]
As an Ohmify member, you have access to all these in addition to all the other courses. 30 courses in total. Almost 400 lessons. You'll find them in the Trainings Library when you log in.
I've also added a Roadmap that will guide you to which courses you should start with and in which order.
If you're not a member yet, you can join us from this page:
I'm guessing that travel is not going to be possible for quite a bit more. So in the meantime, I'll be at my home office/workshop creating more content. And of course, helping you with your projects or understanding of topics in the Ohmify community forum.
Stay safe! And…
Keep On Soldering!
Oyvind @ build-electronic-circuits.com