Can I comfortably fit the components for this project on my protoboard?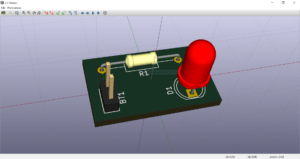 That was the question I asked myself in my early electronics-building days.
If I couldn't, I regarded the project as "too hard".
Often the most exciting projects are much larger than the simple ones.
It's not that they are a lot harder.
But the big circuits have a lot more connections.
And more connections = more chances to make an error.
Which can be scary.
It wasn't until I learned to design my own printed circuit boards that I stopped being afraid of the bigger projects.
A printed circuit board, or PCB, is a board that you first design on your computer. Then you get your board made, with the exact connections you drew on your computer.
The great thing about this is that you can draw out the connections on your computer. And you can peacefully check that they all seem good up front.
Then later, when you have your board, all you need to do is make sure you solder each component in the right position.
No need to worry about the connections between components, because you know they're correct.
This skill will make your life a whole lot easier.
It's what's gonna take you from just building simple circuits – to be able to create advanced gadgets like LCD screens, Quadcopters, etc.
A lot of hobbyists feel more comfortable staying with prototyping boards. And they never take the plunge into PCB Design.
It's a shame because it's not that hard.
And getting boards made is cheap.
And I mean dirt cheap. For example, ten boards at pcbway.com or seeedstudio.com cost $5.
What software do you need to design PCBs?
My recommendation is KiCad. It's a free and open source. And can compete with many of the non-free software version out there.
I've made a short video that will show you how to design a board in just 5 minutes:
The video is not going to teach you all the ins and outs.
But you'll see all the steps involved in designing a board.
And hopefully, you'll feel that those steps aren't too scary and that you can do them also.
Inside Ohmify, you can learn more about how to design your own PCBs. If you're curious, learn more about Ohmify here:
Keep On Soldering!
Oyvind @ Build-Electronic-Circuits.com