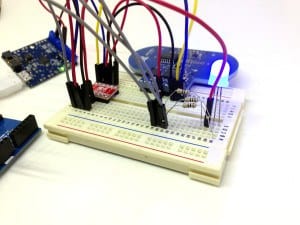 Ahhh… There's nothing like the smell of a new radar, fresh out of the box.
Or maybe I'm just a bit too interested in radar.
Because…
Back in 2009 I studied at the University of Oslo. And I was lucky enough to get to play with radars.
I even built my own microchip with eight tiny radars packed into a 1 x 1 millimeter chip.

Those were the days!
But anyway.
Radars are cool because they let you see through walls.
Or inside the human body.
I've written about some usages before here:
https://www.build-electronic-circuits.com/radar-circuit-examples/
Radars used to be huge. Or really complicated to work with.
But things are changing.
The XeThru module is a module that can fit in your hand — and you can use an Arduino to control it.
I just wrote an Arduino radar library (open source of course).
Keep on Soldering!
Oyvind
PS! Don't despair if you think this is a bit too advanced for you. I'll help you get started building electronics, in a simple way, through my eBook "Getting Started With Electronics":
https://www.build-electronic-circuits.com/products/ebook-2nd-edition