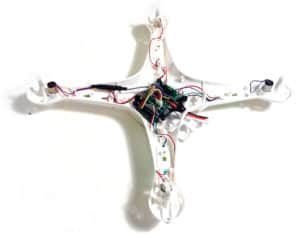 In a previous newsletter I wrote that I was going to fix my broken drone.
I wasn't sure how.
But, with some measuring and googling I figured it out at the end.
I wrote about my experience and how I did it. And I thought it could be interesting for you.

You can read the story here:
https://www.build-electronic-circuits.com/how-to-repair-electronics/
If you don't want to read, the gist of the story was that there was an integrated circuit that had broken down.
I found a replacement after doing a lot of research on Google.
I don't have a lot of experience in repairing electronics. But, I have a lot of experience in building electronics.
And knowing how to build electronics turned out very useful for repairing my drone.
Teaching people how to build electronics is my passion.
It's what I do.
If you want to learn to build electronics, check out some resources of mine and others here:
https://www.build-electronic-circuits.com/resources/
That includes books and courses of different difficulty.
Keep On Soldering!
Oyvind
PS! I will update resources page soon with more books and courses. So, make sure you'll bookmark it for the future.