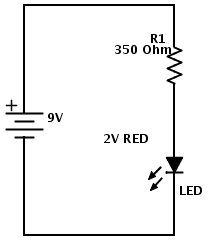 But it was my fault.
I was teaching a soldering class, and the circuit we built was a touch-circuit – a circuit that turns on an LED when you touch two wires with your hands.
When the first student finished soldering the circuit, in his excitement he wanted to attach the battery and see it working.
But it didn't.
I checked all his connections, and looked at the direction of the components.
Everything seemed okay.
But it didn't work.
Then the next student finished her circuit.
She connected the battery….
But it didn't work!
The LED I had chosen, was just a random LED I had found in the lab. So I didn't really know what voltage and current it should have.
So I had just picked a resistor that usually works with standard LEDs.
Since none of the students could get the circuit to work, I realized I had to do a test on my own.
I took the resistor and the LED that the students were using, and hooked it up on a breadboard.
And wouldn't you know it – it did not work.
After a quick calculation, I chose a different resistance value. I connected it to the LED and the battery…
…and it worked!
I handed out the new resistor to the students, they hooked it up – and they all made their circuit work in the end.
Choosing the right resistor for an LED is one of the things you will learn in my eBook «Getting Started With Electronics». Get it here:
https://www.build-electronic-circuits.com/products/ebook-2nd-edition/
Keep on Soldering!
Oyvind