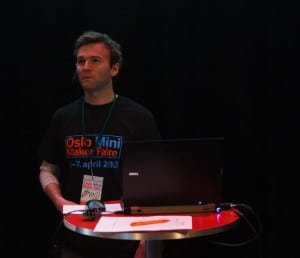 Which seems like a strange thing to do =)
At least when you don't have the context.
But the thing is, I was at this event in Berlin. Yesterday was the opening of a new electronics lab, that aims to attract both hobbyists and startup companies within hardware.
I thought it was going to be a small event – but a lot of people are interested in building electronics.
There must have been at least 100 people there.
So why did I wave?
Many people want to learn to build electronics in Berlin. And a few months ago, I was asked by the organizers of the lab if I could teach electronics-building-courses there.
I said yes.
So they announced my first course, which will be on the 14th of February.
And I waved.
So if you're in Berlin and want to learn to build electronics in a really nice lab, then check out this link (PS! only 7 spots left):
http://www.betahaus.com/berlin/event/introduction-to-hardware-co-lab-2/
If you're not in Berlin, then you can also learn to build things with electronics from my eBook «Getting Started With Electronics»:
https://www.build-electronic-circuits.com/products/ebook-2nd-edition/
Keep on Soldering!
Oyvind