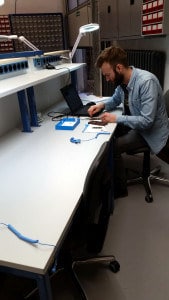 For example, I:
1. Assume everyone knows why things like Arduino and Raspberry Pi are cool
2. Listen to music I don't want to admit to (like Mariah Carey) because it reminds me of one time I built a really cool project.
3. Love the smell of solder (which is toxic and shouldn't be smelled)
4. Ruin my back (because I get so excited when I build something cool, so I lean into a weird position for hours)
5. Keep syringes with solder in my fridge (for those days when I just need to surface mount solder something)
6. I don't dream about a house by the beach. I dream about a lab by the beach.
7. Spend hours every week writing emails to thousands of people with topics like "7 disturbing things I do because of building electronics"
Anyway, if you want to stay normal, then definitely don't buy my eBook «Getting Started With Electronics»:
https://www.build-electronic-circuits.com/products/ebook-2nd-edition/

Keep on Soldering!
Oyvind