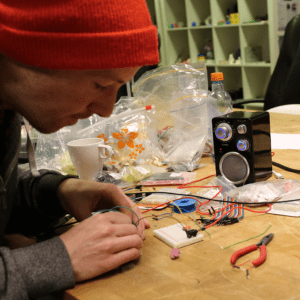 I like to create sound.
It's one of my favorite things to do with electronics.
To create sound you need to make a circuit that creates a voltage that goes up and down very fast.
Like a few hundred (or even thousand) times per second.
In electronics terms: an oscillator.
Connect this oscillator to a speaker, and voila! You have sound.
There are several ways to create oscillators.
One is by using a 555 timer. It's relatively easy to build a circuit with it. But understanding how it works isn't straightforward if you're just starting out.
So instead, I recommend a different chip…
A while back, I went on a playdate with Captain Credible.
We used a Schmitt-Triggered Inverter to create the oscillator.
It's a fancy-schmancy name, but it's actually quite easy to understand the concept of it.
Then we added some fun circuitry to manipulate the sound and create some really cool effects.
And… TADA!
Here's the result:
The Schmitt-Triggered Inverter is now my goto-chip for creating sound.
Are you interested in creating sound with electronics? That's just one of the things you can learn at Ohmify. Learn more here:
Keep On Soldering!
Oyvind @ build-electronic-circuits.com