Kirchhoffs law of current and voltage are two laws that are really useful when you are working with circuits.
I believe these laws are essential to know when working with electronics.
Even if you're not designing schematics, it's useful to know these laws when you are debugging a circuit.
They were created by a guy named Gustav Kirchhoff.
Kirchhoff's Current Law
Kirchhoff's current law states that all the current going into a node is equal to all the current that goes out from the node.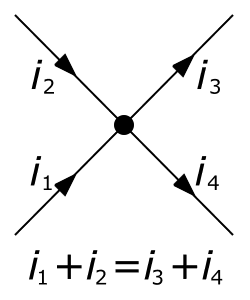 And it's kind of obvious also isn't it? The electrons that flow into the node has to come out from the node as well.
Kirchhoff's Voltage Law
Kirchhoffs voltage law says that the sum of all the voltages measured in a circuit equals zero.
But wait.. How is that possible?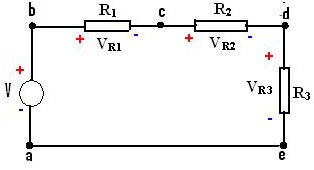 Look at the above picture.
Let's say you measure the voltage source V and get 9V.
Then you move your voltmeter nodes to R1 and measure. The value you see here will be of opposite polarity of the voltage source. So will the voltage over R2 and R3.
So if you measure all the voltages you will see that VR1 + VR2 + VR3 = -V
Think about it until it makes sense for you. This is essential to get. Really.
When do you use Kirchhoffs law?
When you understand these laws you rarely use them explicitly. But because you know them, you know how to measure and what results to expect, so you will use them implicitly all the time when designing circuits, looking at circuits or debugging circuits.
Kirchhoffs law is really important to get. Learning to design schematics and debugging circuits is sooo much easier when you understand this law.
Return from Kirchhoffs Law to Electronic Schematics
Share on social media: