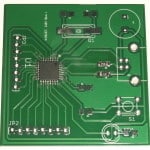 Oh man! When I made my first printed circuit board, I was so thrilled!
It was extremely satisfying to be able to touch my own circuit board design. And today it's time you learn it too.
And the truth is that the process isn't that hard. There are just a few steps you need to go through. And anyone can do it – even if you have no experience from before.