A Beginner's Guide to Circuits
Nine Simple Projects with Lights, Sounds, and More! by Øyvind Nydal Dahl
Buy now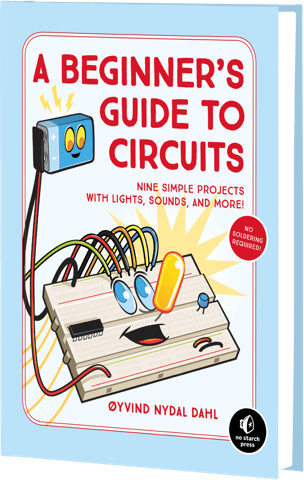 A Beginner's Guide to Circuits is for anyone who wants to jump into the world of building things with electronics quickly.
It contains 9 circuit-building challenges you'll have to overcome. And you'll get to build things like a game, a homemade musical instrument and a cookie-jar alarm. The projects range from easy to medium and they're suitable even for complete beginners.
First, you'll learn to read circuit diagrams and use a breadboard, which allows you to connect electrical components without using a hot soldering iron! Next, you'll build nine simple projects using standard components, like resistors, LEDs, transistors, capacitors, and more. As you build, you'll learn what each component does, how it works, and how to combine components to achieve new and interesting effects.
By the end of the book, you'll have a good foundation for building your own electronic creations. With easy-to-follow directions, anyone can become an inventor with the help of A Beginner's Guide to Circuits!
You'll Build These 9 Simple Circuits:
Steady-Hand Game

Test your nerves using a wire and a buzzer to create an Operation-style game!

Touch-Enabled Light

Turn on a light with your finger!

Cookie Jar Alarm

Catch cookie thieves red-handed with this contraption.

Night-Light

Automatically turn on a light when it gets dark.

Blinking LED

This classic circuit blinks an LED.

Party Lights

Throw a party with these charming string lights.

Railroad Crossing Light

Danger! Don't cross the tracks if this circuit's pair of lights is flashing.

Digital Piano

Play a tune with this simple synthesizer and learn how speakers work.

LED Marquee

Put on a light show and impress your friends with this flashy finale.
Beginner's Component Kit
An optional beginner's component kit that includes all the components you need to build all the circuits (battery not included). This book is designed to help you BUILD circuits, not just read about them. It's highly recommend getting the components with the book, right from the start.
(Actual kit contents differs slightly from image)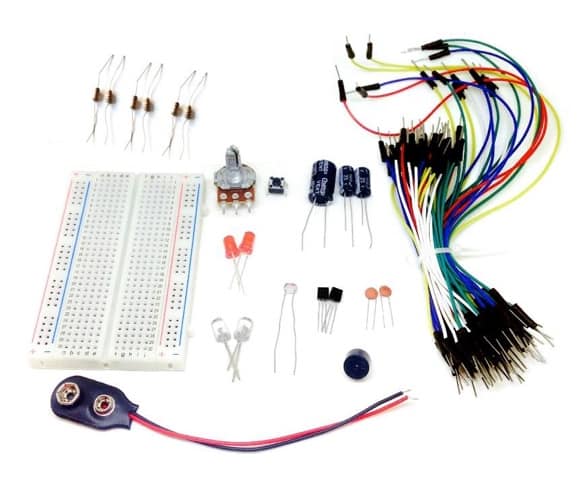 Table of contents
Introduction
Build Your First Breadboard Circuit
Project 1: The Steady-Hand Game
Project 2: The Touch-Enabled Light
Project 3: The Cookie Jar Alarm
Project 4: The Night-Light
Project 5: The Blinking LED
Project 6: The Railroad Crossing Light
Project 7: The Party Lights
Project 8: The Digital Piano
Project 9: The LED Marquee
Reviews
"An excellent starter book for young people interested in electronics."
"You are expected to use the breadboard to assemble the parts using the traditional diagram. This is a much better way to learn the way circuits work than many other guides or books, which hold your hand through assembly at the cost of holding your hands through understanding."